myFICO Promo Code – Get 25% Off
All Active Codes & Savings
Head on over to myFICO and get your credit score. If you are in the process of applying for a loan, this is important information for you to have. You can get immediate access to your credit report at myFICO and protect yourself from the dangers identity theft.
Are we missing a coupon?
Submit new coupon
30 Day Statistics: 0 new Deals added • 0 tested by hand
Recently Expired myFICO Coupons & Discount Codes
Feel free to try one of these myFICO coupon codes that may still work.
Coupons You May Also Like
Available myFICO Online Discount Codes for March 2023
| Discount | myFICO Coupon Info | Expires on |
| --- | --- | --- |
| 25% | myFICO Discount Code: Grab 25% off | Valid indefinitely |
| 20% | myFICO Discount Code: Grab 20% off | Valid indefinitely |
| 20% | 20% off Bureau Fico Scores | Valid indefinitely |
myFICO customers also love to shop here
Useful tips and information
myFICO is a service that allows you to regularly monitor or quickly check your credit scores in a simple and convenient manner. myFICO is a service offered to consumers by Fair Isaac, the company that invented the FICO credit score system in the 1960s. The company works in alliance with such major credit bureaus as Equifax, TransUnion and Experian to bring accurate scores to millions of consumers. In fact, since its launch in March 2001, myFICO.com has sold over 23 million credit scores. Today, the service offers a number of different products to suit several different needs, from monthly subscriptions that monitor scores from either 1 or 3 credit bureaus to one-time credit score reports that report scores from the same credit bureaus as the subscription model.

By giving consumers several different options in terms of credit monitoring, myFICO is able to provide a number of different price options for customers. If you purchase a subscription, you'll save on upfront costs for credit score monitoring as the one-time report option costs twice as much as the first month for the subscription option. Furthermore, if you purchase an entire year's subscription upfront, you may save a few dollars every month. If you don't wish to monitor your scores on a monthly basis, you have the option to purchase a one-time report that allows you to see your scores as well as where you stand in terms of credit history length, debt and payment history. But before you decide which type of report to purchase, make sure you learn about the various discounts we offer for the service below.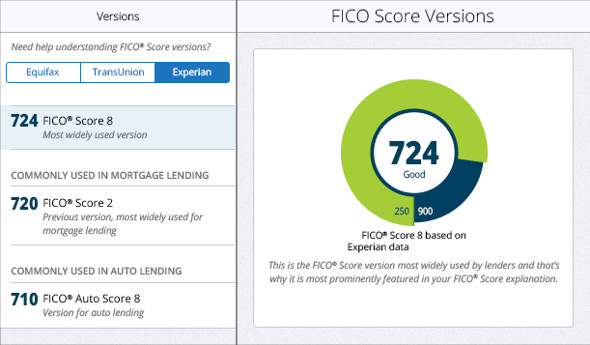 Save More on Credit Monitoring Products from myFICO with a Voucher for the Service
Paying to keep an eye on your credit score may seem like an unnecessary expense, but with the low prices that myFICO offers, monitoring your scores with the 3 major credit bureaus, Equifax, TransUnion and Experian, has never been easier. To make that expense even cheaper, we have vouchers to offer that allow you to save on the service's upfront subscription costs and perhaps even one-time credit score reports. If there are currently no vouchers available, make sure you enter your email address above to receive alerts when new ones have been added.
You can learn how to use a voucher for the service below, but if you'd prefer to use a similar service, have a look through our finance and insurance section. You'll find offers for such services as Equifax. If you're trying to establish or rebuild your credit, apply for a secured credit card with Bank of America.
How to Redeem Discount Codes on Products at myFICO
Browse the service's website, and add the product you think is right for you to your shopping cart.

Enter your code in the Promo Code box of the shopping cart, and click Apply.

Go to checkout.

Log in to your account. If you don't have an account, enter your billing information, credit information and desired login information to create a new one.

Enter any additional information the service needs from you.

Enter your payment information, and confirm payment to complete your order.

The myFICO Blog
The myFICO blog is a great resource and tool for those who are financially conscious or would like to be financially conscious. Along with tutorials and tips on how to manage and improve your credit, the blog includes such topics as how to spend tax refunds wisely as well as your how to clean your finances annually.
Contact Information
FICO
200 Smith Ranch Road
San Rafael, CA 94903
Telephone: (800) 319-4433
Or use the online contact form.