Our mission for all our 10 couponing portals around the globe is to always provide the most up to date working coupon codes. To achieve this, our team works constantly on finding and testing coupons, as well as negotiating exclusive discount codes for our sites. On this page, we will give you an insight into the daily work of one of the largest operators of couponing portals in the world.
How do we test?
To make sure that we always have the most recent valid coupon codes on our sites, all discounts in our database are constantly tested. Working with our especially developed Coupon Delivery Network, which is the heart of all our sites, a team of full-time employees and freelancers tests every promo code and deal manually.
An individual list of shops and coupons is assigned to each tester, which he then checks. If the codes are working, they are marked accordingly. You can see the date on which each coupon is tested on site.
Should a code not be working, it will be removed from our page immediately. This is how we ensure that you only find valid promo codes and deals that help you save money. We also test coupons that have recently expired and about 30% of them are still working. This way, you can save even more money.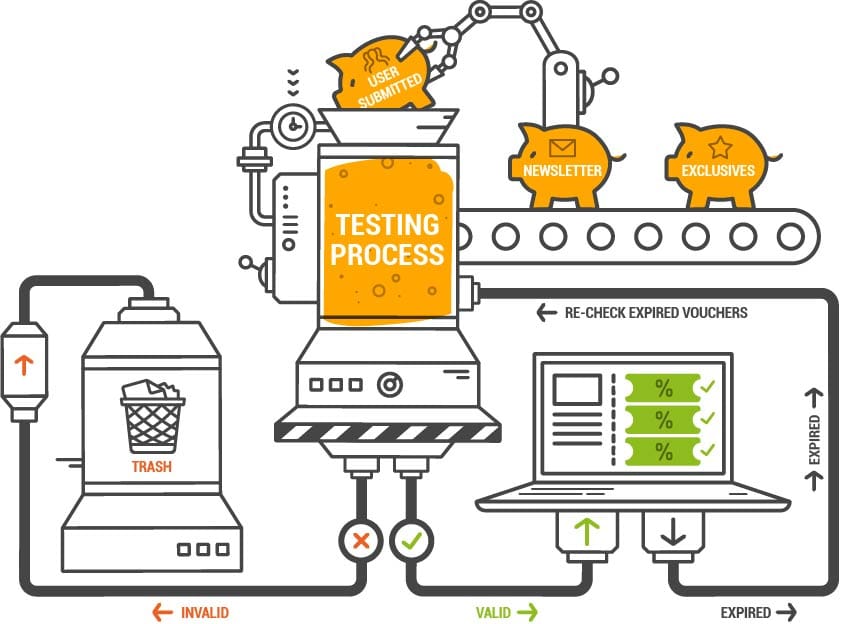 How do we find coupons?
In order to keep our coupon database up to date, we are constantly searching for the latest coupons and discounts. To achieve this, we monitor newsletters and webpages of online stores. Also, coupon submissions by email, using our submission form or through our 'Best Coupon Promise' are very welcome and will be published right after they have been tested as working.
Exclusive coupons are another important part of our service. These are promo codes and offers that are only available on our sites and can't be found anywhere else. Our Account Management Team is in charge of negotiating these and is communicating with our partners to get the best savings for you. The exclusive offers are marked accordingly on our sites.
Companies we are working with
We are currently working with around 5,000 partners worldwide. It is very important to us that our partners are trustworthy and offer safe purchases for our customers.  Therefore, we have a list of criteria that have to be met before we start a partnership with an online store. This way you can safely shop online at any of our partner-shops. Some of them are:

Amazon
,
Expedia
,
T.M. Lewin
,
Michaels
,
Target
,
JCPenney
 and many more 
How do we make money?
You might wonder how we make money whilst providing a free service. Therefore, we would like to explain how our sites work:
1. You find a coupon you would like to use on one of our sites and click "Get Code".
2.You are redirected to the corresponding online store and shop there as usual.
3.You make a purchasing using our code.
4.We receive a small commission from the respective online store.
The commission rate always depends on the partner. It usually is a small percentage of the purchase value. Some online shops don't pay any commission, and for selected offers, we pass our commission straight on to you through our Cashback Program.
If you have further questions regarding our service or how we work, feel free to look at our FAQs or contact us using the contact form or our live chat.