Cash Back Terms & Conditions ≫ Couponbox.com
Cash Back Terms & Conditions ≫ Couponbox.com
How do I get my Cash Back?
With the Couponbox.com Cash Back program, it is easy to receive cash the next time you go shopping. It's not complicated at all!
Just select the appropriate offer on our page and click Get Cash Back. Now a popup will open which will lead you to your Cash Back in three easy steps:

Step 1: Enter your Email address and click on Activate Cash Back

Step 2: Click on Visit Shop to visit the store and shop there as usual. Important: Complete your purchase through the link provided and do not visit any other sites in the meantime, otherwise your Cash Back will not be paid out.

Step 3: Upload your receipt: Right after your purchase, or as soon as you receive the order confirmation/receipt from the shop, please follow the link we've sent you by email. Just upload your order confirmation/receipt (allowed formats: .jpg, .pdf, .png, .docx) which must contain the following information: name of the online shop, date of purchase, purchase sum, name of customer, order number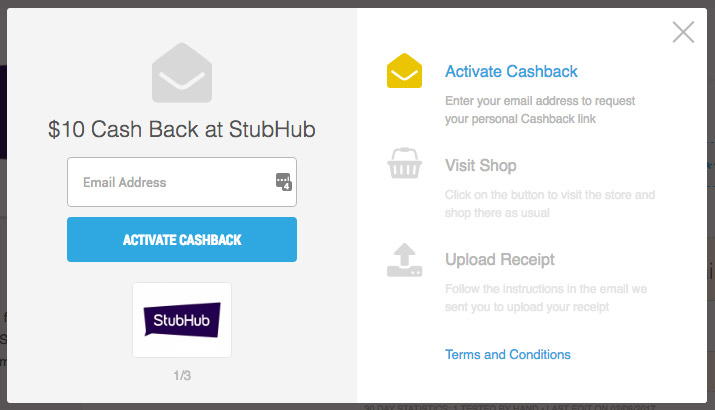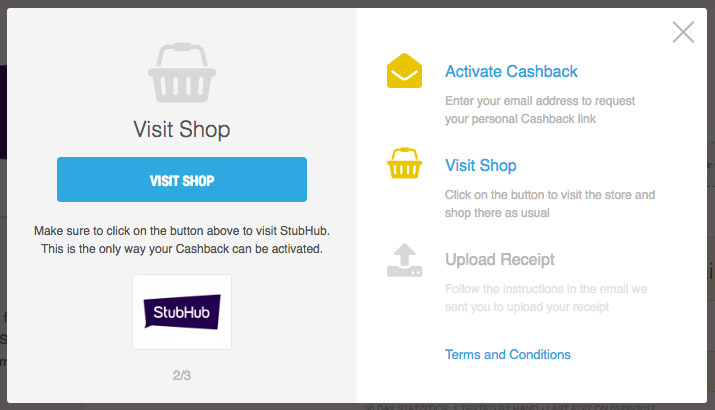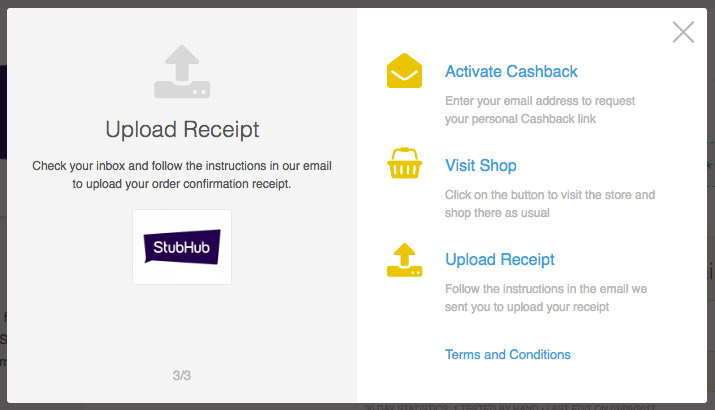 As soon as we have received all your information, we will check your order confirmation/receipt and arrange the payment of your Cash Back within 10 working days(*).

 

Payment of Cash Back via PayPal
If you have qualified to receive a particular Cash Back offer, we will transfer the relevant amount of Cash Back directly to your PayPal account. As such, it is essential that you provide your correct PayPal email address when prompted.

Please Note: We are only able to attempt the payment of your Cash Back once, and therefore misspellings or mistakes in your submitted PayPal address will result in non-payment of your Cash Back claim.

What is PayPal?
PayPal allows you to make Internet payments quickly and securely, while protecting both the sender and the recipient of any transaction. For further information on PayPal, please visit https://www.paypal.com/us/home

Don't have a PayPal account yet?
It's easy to create your free PayPal account here: https://www.paypal.com/welcome/signup/#/email_password
Terms & Conditions for Participating in the Cash Back Program
By participating in the "Cash Back" promotion, you agree to the following terms:
1. Use of the link provided
Cash Back will only be paid out if you visit the partner shop using the link provided by us, without visiting other sites during the transaction. Doing so may disrupt the tracking process without your knowledge and invalidate your claim.

Why is this necessary? This process is the only verified method for the shop to track that your transaction originated from Couponbox.com. Using this tracking, the shop will then pay us commission, which makes the Cash Back program possible. If we determine that you did not make your purchase using the link, or visited other websites during the transaction, then unfortunately we are unable to honor any Cash Back claim.
2. Minimum order value
To be eligible for a Cash Back, your purchase must meet the appropriate minimum order value shown (you will find this under the redemption conditions when you request Cash Back).

We will then review the value of your purchase on your order confirmation/receipt from the given online shop. If your purchase is below the minimum order value, or we are unable to determine this from your order confirmation/receipt (e.g. if you have made the amount illegible), unfortunately we are unable to honor any Cash Back claim.
3. Payment via PayPal
The amount shown on the relevant Cash Back will be paid to your PayPal account.

Payment will be made to your indicated PayPal within 10 business days(*) after your order confirmation/receipt has been uploaded. You must provide the correct PayPal email address when prompted. Payment of your Cash Back claim can only be attempted once. Therefore, any misspellings or mistakes with your original submitted PayPal email address will result in non-payment of your Cash Back Claim. Couponbox.com assumes no responsibility of any lost or stolen Cash Back or for any Cash Back paid to an incorrect PayPal account through no fault of Couponbox.com. Couponbox.com is unable to correct or alter any PayPal addresses that have already been submitted as part of the Cash Back claim process. 

Couponbox.com is not liable for any denied, blocked or otherwise returned payments from your PayPal account. In the above cases, you must contact PayPal support for assistance in receiving the attempted Cashback payment. At the complete discretion of Couponbox.com, a second attempt to complete the transfer may be made in select exceptional cases. If payment to your PayPal account is not possible after two (2) attempts, then your Cashback payment will be forfeited and your claim deemed invalid.

The promoted Cash Back is not a guaranteed value to be paid to your PayPal account, due to fees and costs incurred by PayPal. Whilst Couponbox.com takes great efforts to assume these costs by transferring a higher amount than the promoted Cash Back, PayPal reserve the right to update their Terms and Conditions, along with associated costs without warning, which may have an effect on the amount which you receive in your PayPal account. Couponbox.com does not take any responsibility for any difference to the received funds due to these adjustments.

Should you not have a PayPal account with USD ($) as the standard currency, it is possible that higher fees are incurred and a lower value is received. All transfers from Couponbox.com are based on fees and costs associated with USD accounts and any differences due to foreign currency transfer fees are not the responsibility of Couponbox.com.
(* As a default policy, we ensure that all approved Cash Back claims are paid within 10 business days. Unfortunately, some promotions require a longer processing period due to various verification reasons. Any Cash Back offers which are not able to be paid within 10 working days will be specifically mentioned in the Terms and Conditions of that offer.)
4. Other methods of payment
Unfortunately, other methods of payment (besides PayPal) are currently not available and therefore cannot be validated.
5. Restrictions on the promotion
There is a limit of 200 Cash Back payments for each online offer. This means that once 200 people have already redeemed their Cash Back, no further payments will be made for that promotion. The promotion ends on the date specified or once all available Cash Backs have been claimed. At that point, the offer will be removed from the site and no more activations will be possible.
Only 1 (one) Cash Back claim may be validated/redeemed per person and per Cashback promotion.

Each order confirmation/receipt may only be submitted once.

Cash Backs are not valid in conjunction with any other cashback or coupon code promotion.

Order confirmations/receipts must not be older than 10 days and the transaction must occur before the expiry date of the promotion. The end of the promotion is shown with each relevant Cash Back offer. Order confirmations/receipts submitted after this date and time are excluded from the promotion.

Cash Back offers are valid for purchases in participating shops exclusively.
6. Returns
Couponbox.com reserves the right to request the return of any payments already made, if goods purchased have been returned.
7. Order Confirmation/Receipt
Cash Back will only be paid if a valid order confirmation/receipt is submitted. A valid order confirmation/receipt includes the following:
Name of the online shop

Total amount of purchase

Date and time (if available) of purchase

Customer's name

Order number
The validity of any order confirmation/receipt and therefore whether the Cash Back will be paid, is at the sole discretion of Couponbox.com. If you are unsure whether your order qualifies for a Cash Back, please enquire at cashback@couponbox.com before making your purchase.
8. Excluded categories of products
It is possible that some categories of products or brands may not count towards the minimum order value. Of course, you can still order these categories of products or brands, but they just won't count towards the total order value. Only valid categories of products will count towards the minimum order value. The purchase or redemption of gift coupons is always excluded from the minimum order value. Whilst you may redeem gift coupons, the value of these will not be included as part of the minimum order value specified.
9. Participation

a) Participation in Couponbox.com Cash Back is only available to users of at least 18 years of age and residents of the United States of America.
b) Any decision on the fulfillment of all conditions required for a valid Cash Back claim is made at the sole discretion of Couponbox.com.
c) It is possible, dependent on applicable tax laws, that you are liable for taxation on any Cash Back issued to you. You are solely responsible for all tax liabilities arising from receipt of the Cash Backs.
d) All information collated from participants is subject to the Privacy Policy operated by Couponbox.com.
e) e) By activating a Cash Back or Reward offer, you consent that your submitted e-mail address may be used for future periodic newsletter communications from Couponbox.com. If you would like to opt out of these communications, please email info@couponbox.com with your request or unsubscribe directly through any past e-mail communication sent by Couponbox.com.
f) Any submitted e-mail addresses and/or data from order confirmations will not be provided to any third parties. This information will only be used internally by Couponbox.com for processing your claim, as well as for communication and payments via PayPal.
g) All Terms and Conditions of participation are subject to German law.
10. Liability
Participation in the Couponbox.com Cash Back program does not give rise to any contractual relationship between the user and the partner companies.

Couponbox.com is not acting as a representative for the partner companies.

Contracts arising as part of any purchases from partner companies are concluded between the user and the partner company exclusively.

Couponbox.com consequently also assumes no responsibility for the accuracy and completeness of information provided by its partner companies.

The relevant partner company is solely responsible for the availability, the correct dispatch and the freedom from defects of the partner company's products, as well as for the billing of these.

Couponbox.com assumes no responsibility or liability for the content of websites accessed directly or indirectly (links) from www.couponbox.com.

As Couponbox.com has no influence on the content and appearance of external websites, Couponbox.com expressly distances itself from the content of these sites and takes no ownership of their content. The providers of the relevant websites are solely responsible for the content.
Final provisions
We reserve the right to suspend or amend the Cash Back promotion, either in full or in part at any time. This will occur if, in our judgment, its correct operation is compromised by fraud, technical problems, human error or other factors.

We further reserve the right to exclude any person from participating who manipulates the process or violates the terms and conditions. The user has an obligation not to conduct misuse or fraud on their account or to damage Couponbox.com in any way by this use.

If you have any further questions about Couponbox.com's Cash Back promotions, please email: cashback@couponbox.com.